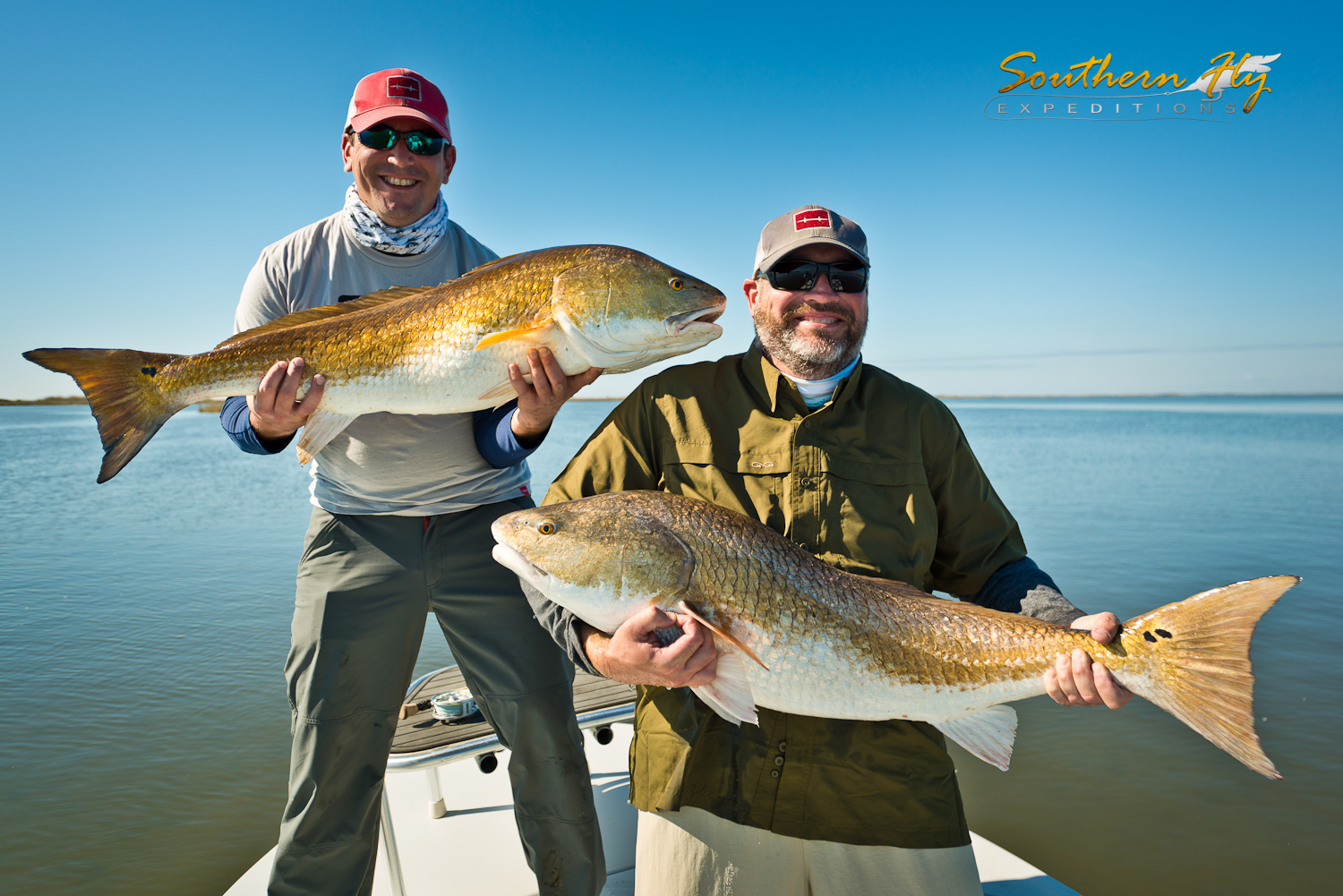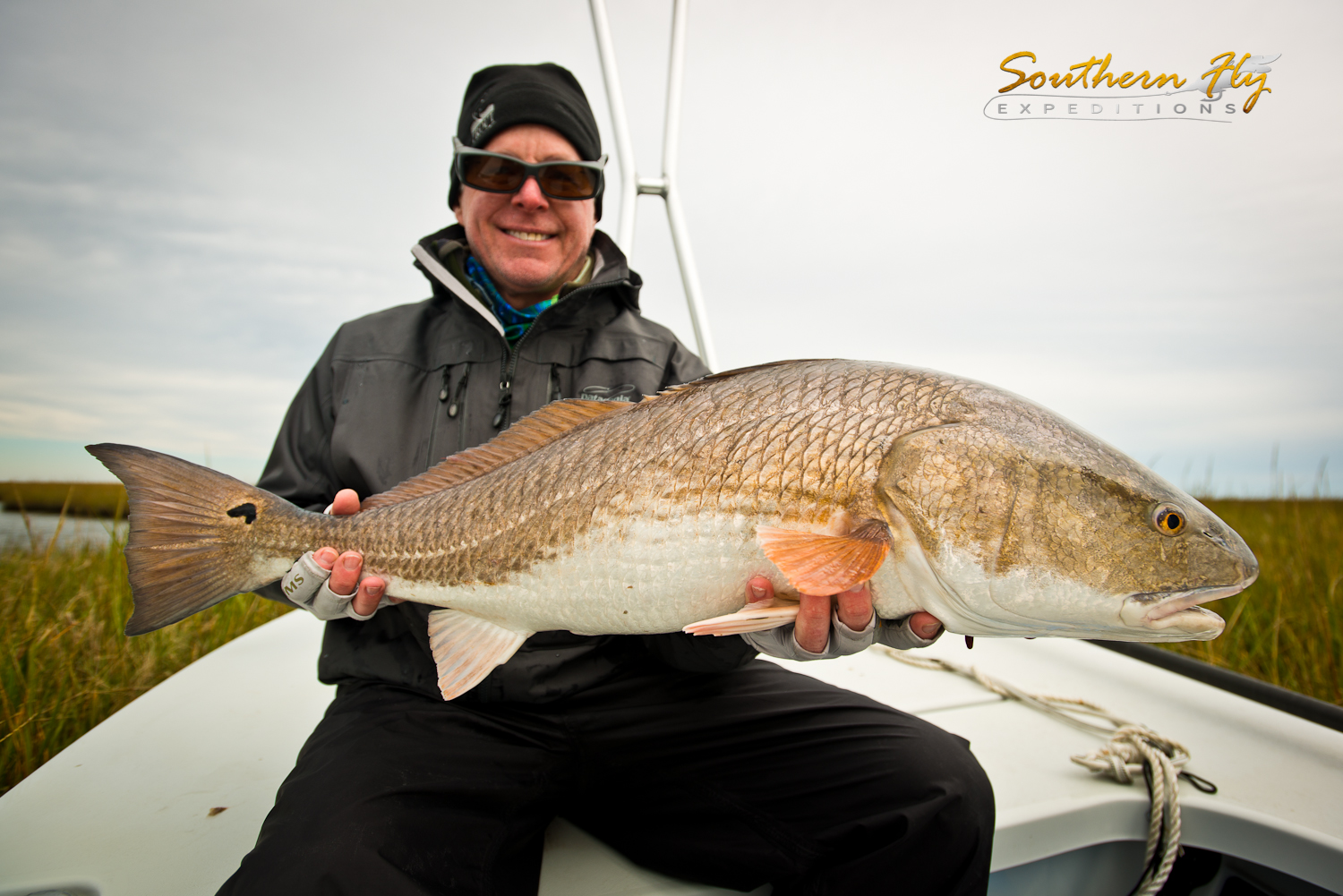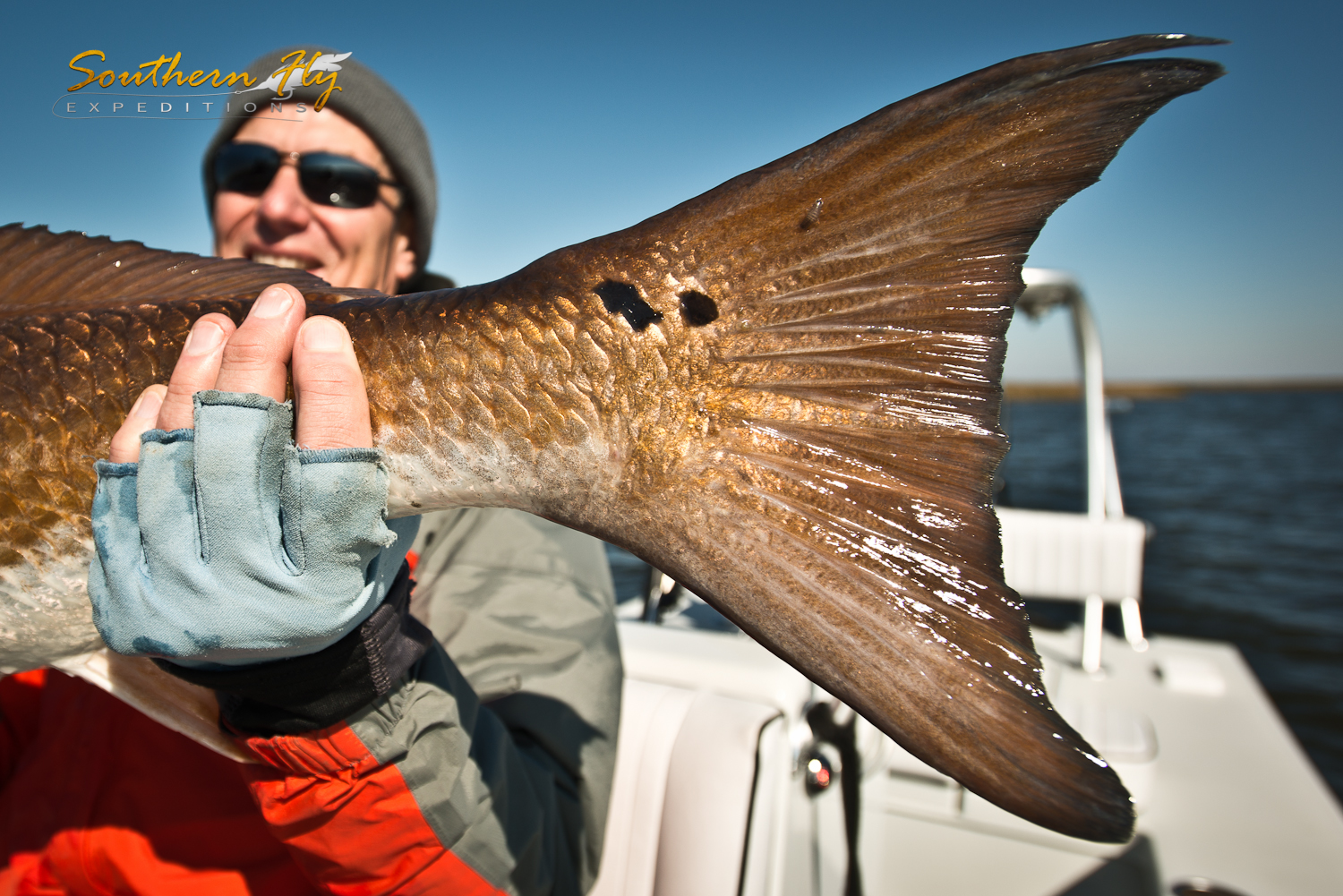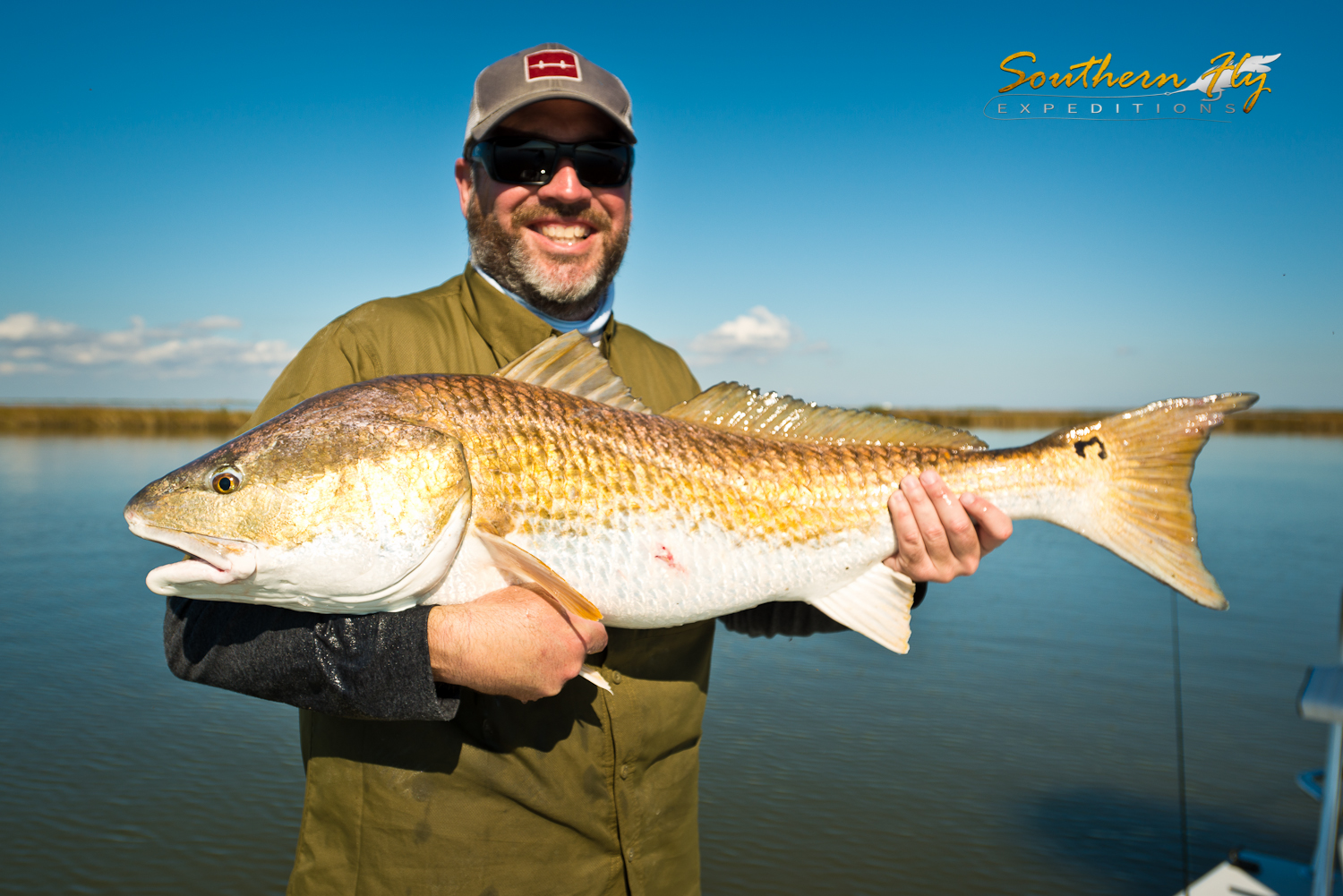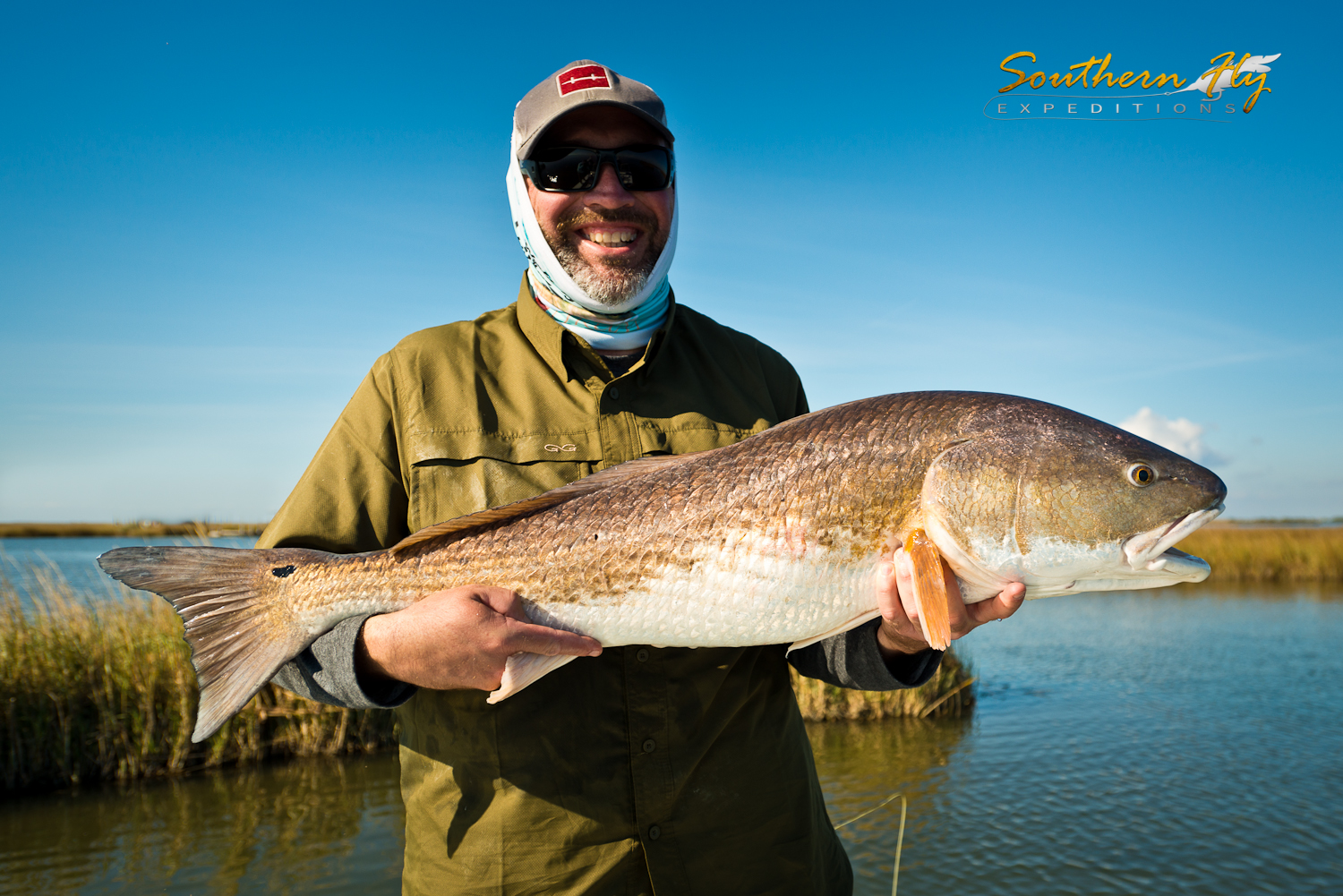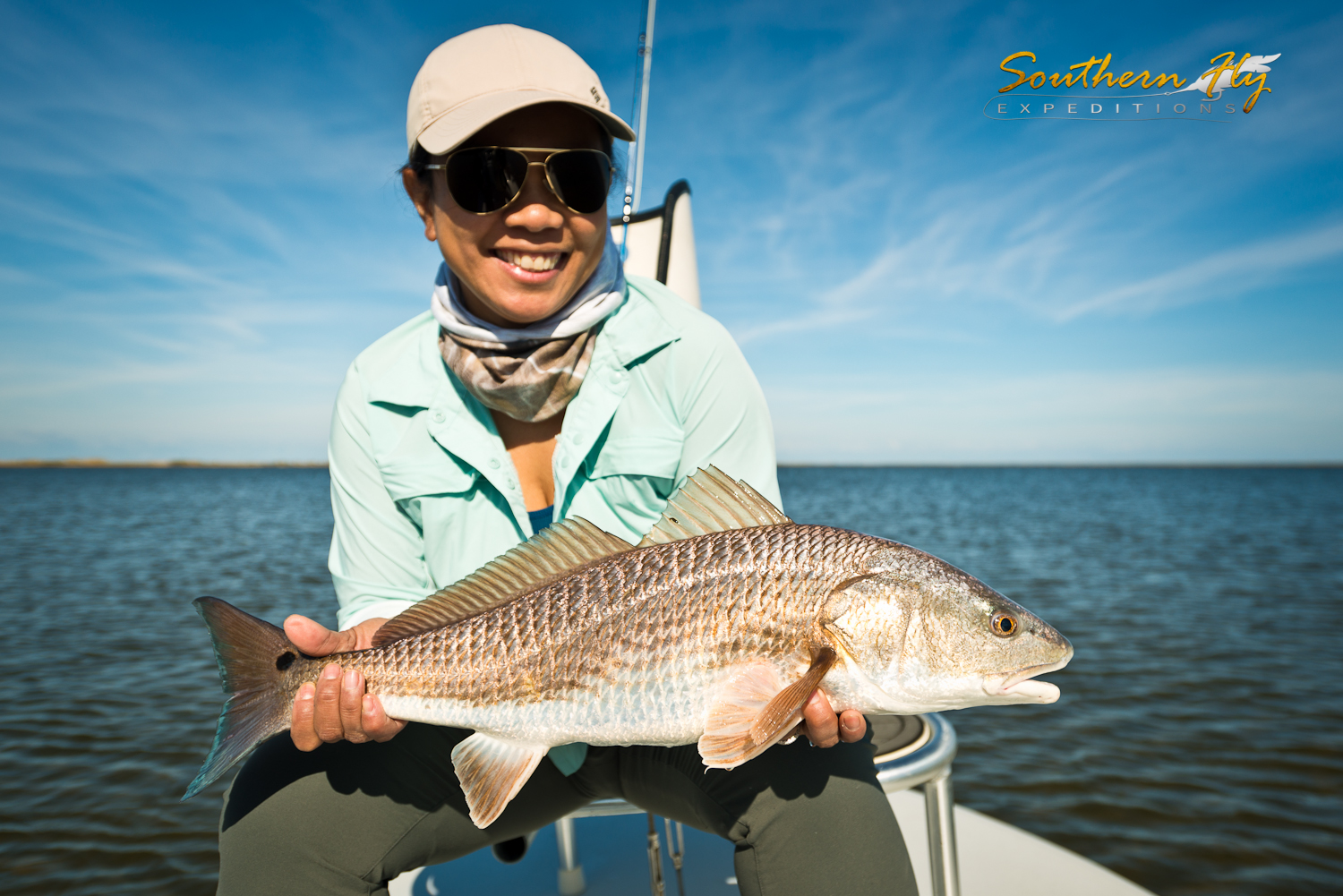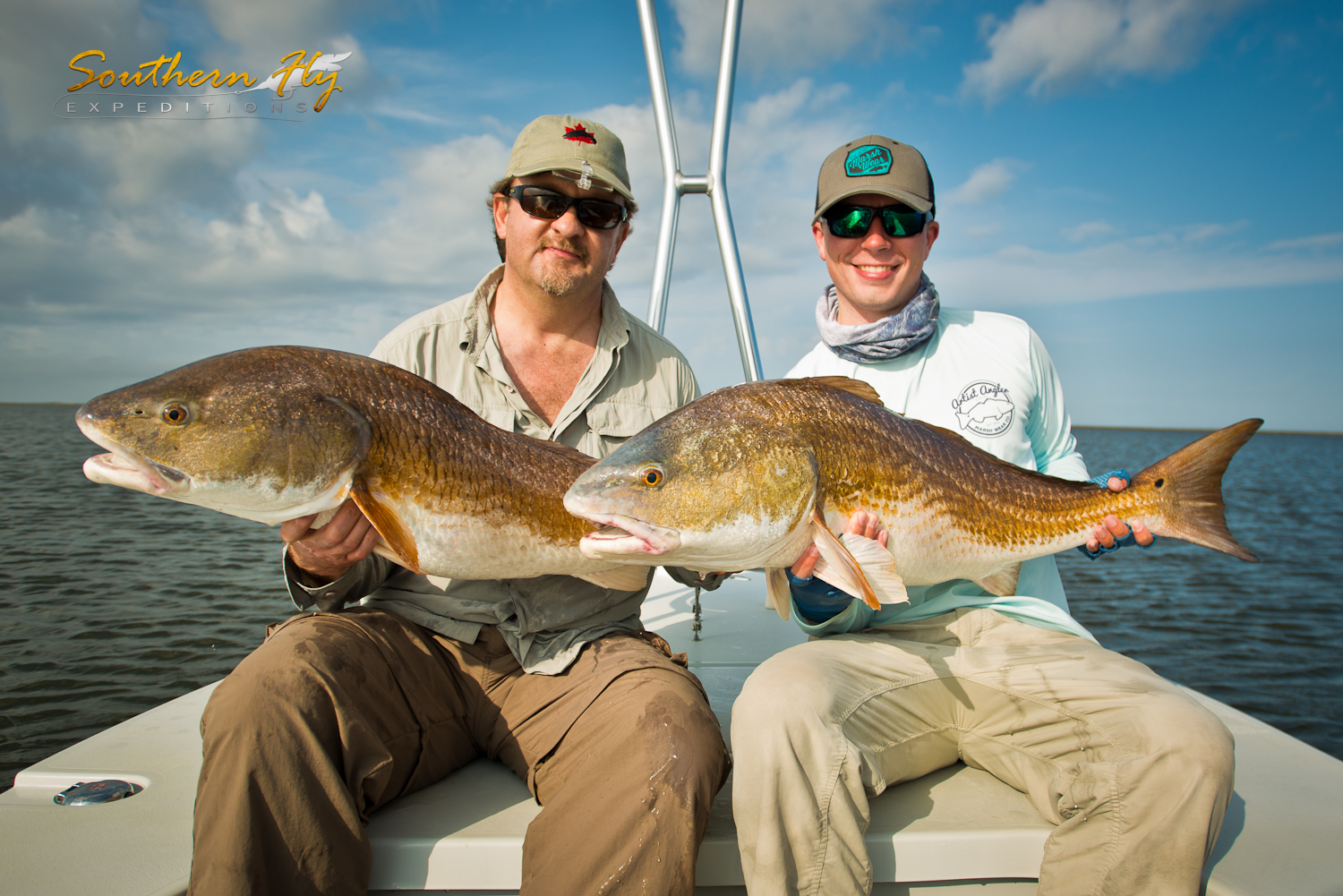 Dual Catch of Monster Red Drum
It's thrilling to reel in a spottail bass and it's more exciting when two monsters reds take the bait at the same time. New Orleans has some of the best fly fishing in the world and now you see why.
Book your fly fishing trip today with Captain Brandon Keck, Southern Fly Expeditions, of Southern Louisiana. You'll have a successful fly fishing trip to brag about.
Looking for ideas for retired military vacations? Fly fishing is a fun challenging sport. Salt water fly fishing for redfish is an art that can be learned quickly. The best way to present the fly is with one cast or shoot it to the bull red. A ready position on flat boats is around 10-15 feet of line from the tip of your rod. then you're going to do a Redfish Roll. This is when you make a quick roll cast shoot the line to the fish.
Spring Fly Fishing Louisiana
Spring is always said to be the best time to fly fish in Louisiana. A little know secret, is that with an experienced guide, fly fishing in Louisiana is great year around. Book your next fly fishing trip with an experienced fly fishing guide, Captain Brandon Keck.
A great vacation for retired military serviceman is a New Orleans fly fishing trip. We welcome fly fishing sportsmen military men from the Coast Guard Base and Tinker Air Force Base in Oklahoma City. Of course, these brave men who served our country could be out done so we have to give a shout out to fly fishermen from the military of Fort Sill in Lawton, Ok, Altus AFB in Altus, Ok, McAlester Base in McAlester, Ok, and Vance Air Force Base in my favorite town of Enid Oklahoma. These towns are a short five to six hour drive to New Orleans. The salt water flats are a short trip from New Orlean for fly fishing of red drum, black drum, sheepshead, shark, and jack crevalle.
Prize Catch Huge Red Drum
If you're looking for the perfect fishing Christmas gift for your avid fishermen, here is an idea that he'll cherish forever. Give him a fly fishing trip to Southern Louisiana. Captain Brandon Keck will give him the best fly fishing experience.
New Orleans is a destination fly fishing vacation that can be enjoyed year around. Whether fly fishing for redfish, jack crevalle, sheepshead, or black drum. A fly fishing Christmas gift is great for a gift idea for fisherman.
Many Texans, fly fishermen residing in Houston, Beaumont, Dallas, or Fort Worth make the trek to New Orleans for a fly fishing trip given as a Christmas gift for their avid fishing enthusiasts. It's a short trip from east Texas to New Orleans to get away and enjoy casting for bull reds, black drum, shark, or jack crevalle.
Multiple Spot Tail Bass Louisiana
They are officially called Red Drum, however, go by spottail bass, channel bass, or bull redfish. Whatever you call them, they are the most fun fish to reel into your boat. Sport fly fishing can not get any better when a monster red takes your bait. He give you a challenge you won't forget.
Successful Fly Fishing Dual Catches
So you booked a fly fishing trip with your buddy thinking it would be a fun weekend. Your guide, Brandon Keck, picks you up at the hotel and after a short ride your on the water heading for the shallow water edge of the marsh. Southern Louisiana couldn't be more beautiful. Lines are cast and the waiting games begins. Suddenly, your line is alive with action. It's a hard struggle to keep up, your opponent weights a ton, and he's formidable. You glance at your buddy and think he's going to have trouble topping this. Now the boat is swaying, your buddy just hooked a live one with power packed action. It's a day on the water fly fishing with Southern Fly Expeditions.
Retired teachers love to fly fish in New Orleans. Whether you are from Tennessee or Kentucky, a fly fishing trip is a wonderful experience for the fly fishing sportsmen.
Texas Georgia Mississippi come to Louisana to Fly Fish
Texas fishermen come to Louisiana to get some good old fashion fly fishing in for the day. Yes, our neighbors, you see, Southern Louisiana has some of the best salt water flat fly fishing in the southern U.S. It's a day of catch and release, sport fishing that is at it's best. Stay in comfort in New Orleans at night and fly fish during the day. Life couldn't get any better.
Boloxi Marsh Yields Action in Fly Fishing
Shallow water marsh fly fishing for red drum doesn't get any better here in Southern Louisiana and Southern Mississippi. Sight sport fishing is a day of adventure for any fisherman. Whether you are coming in from Texas, Georgia, or Mississippi, expect an adventure fishing for red fish with Southern Fly Expeditions, Captain Brandon Keck.
Sport Fly Fishing Catch and Release
Finding an experienced guide when fly fishing for red drum makes your fishing trip a success. Fly fishing in the Boloxi Marsh just north east of St. Bernard, south of Lake Borgne is just a short trip outside of New Orleans. Captain Brandon Keck is the premier fishing guide for bull reds. He will give you a fishing trip you'll remember
Spottail Bass Fly Fishing
Whether you call them spottail bass, red fish, red drum, or bull reds, fly fishing is an adventure when you fishing for this particular fish. Southern Louisiana has an abundance of bull reds to offer you a fishing challenge that you'll remember. Whether fly fishing in Lake Pontchartrain, or just south of the Mississippi Sound in the Boloxi Marsh, red drum are plentiful and will give you an exciting day. Book with Captain Brandon Keck, Southern Fly Expeditions, for your next fly fishing trip.
Shallow Water Fly Fishing
The scene is gorgeous, the mud bottom water clear, you cast your line to see a formidable opponent, a youngster red fish lunge on your bait. This is what it's like when fly fishing with Captain Brandon Keck of Southern Fly Expeditions. Whether you fly fish in the Biloxi Marsh or in another area of slat water flats near Lake Borgne or closer to Bay Boudreau, you'll have an action packed day of fly fishing.
Women's Fly Fishing Guide
Fly Fishing has always been popular for outdoor women who love to fly fish. This is a growing sport among women. Book with guide Captain Brandon Keck, Southern Fly Expeditions. He is an experience guide that will give the fly fishing pros a challenge and take an avid amateur to the next level of fly fishing.
Young Red Fish Challenge Fly Fishermen
Feisty youngster red drum will offer a strong battle reeling them into the skiff as was found out by an equally strong but small angular. Women love sport fly fishing and for a challenging fun day on the water, call Captain Brandon Keck, Southern Fly Expeditions, New Orleans.
Fly Fishing Salt Water Flats Louisiana
Fly fishing in the marshes just east of New Orleans offers an abundance of red fish large and small. Both are a challenge and fierce opponent when reeling them into the skiff. For a fun day sport fly fishing, call Captain Brandon Keck, for an action packed day fly fishing.
Back to Back Bull Red Catch and Release
You cast your line and wait. Before you know it, you are reeling in a youngster red fish but his fight and tenacity gives you a challenge. After his release, you have another bite, this time it's a monster red. She feisty, strong, rests a bit between challenges, then explodes with energy. The fight is on and it's exhilarating. Book a fly fishing trip with Captain Brandon Keck and have a day of fishing you'll always remember.