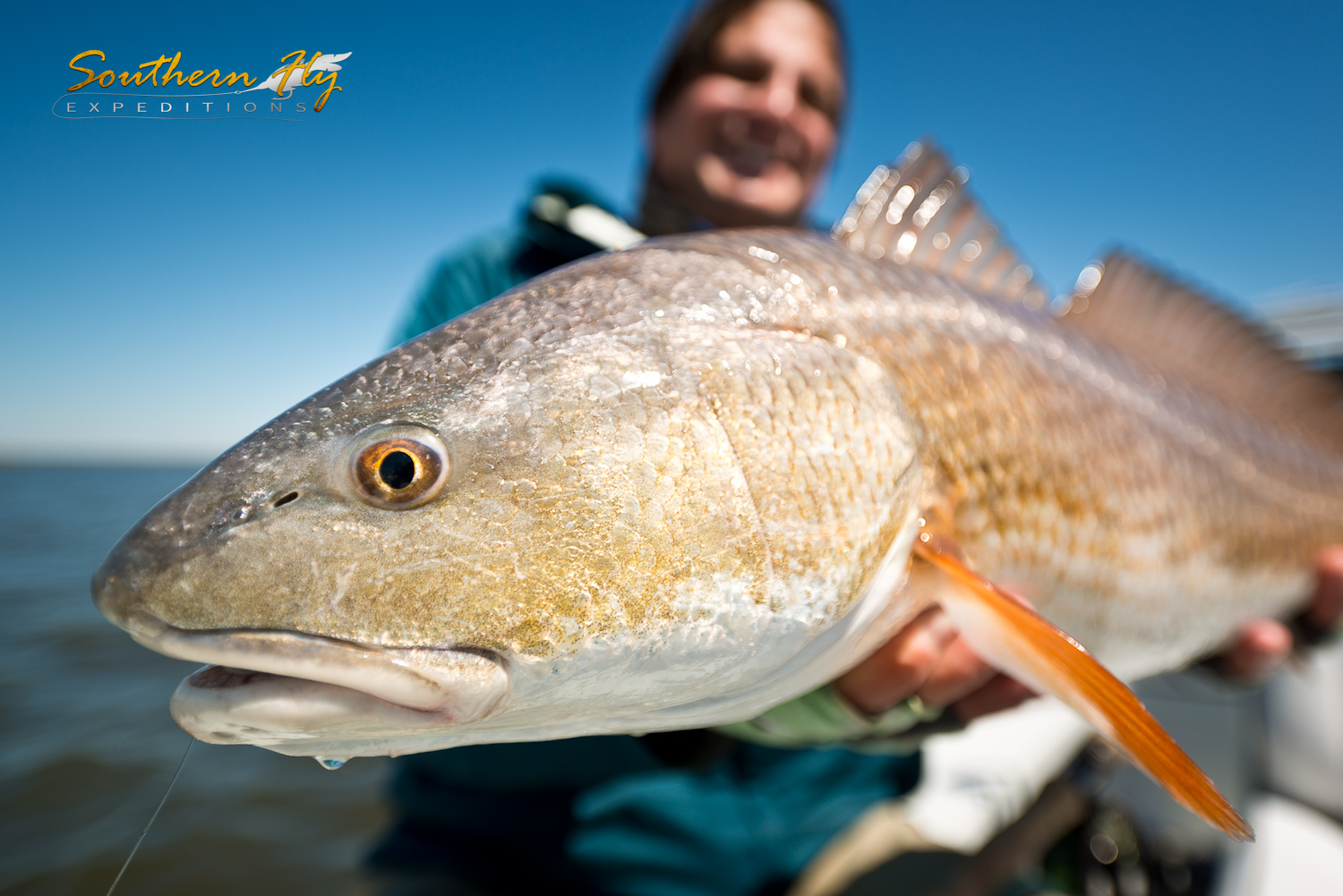 Casting for Redfish hooks a Good Sized Redfish Southern Fly Expeditions New Orleans Louisiana Fly Fishing
Fly fishing in Louisiana has never been better. Fly fishing in the Louisiana marsh is an exciting day spent in the low tide waters. These salted flats are filled with red drum ready to take your bait. Reds are referred to channel bass or spot tail and give an angler a real challenge once they taken the hook. Their tenacity is similar to hooking a mountain stream trout. Of course, red drum are larger species. We have trout anglers from the Montana fly fishing in the Gallatin River, Flathead River, Madison River, and Missouri River who like the challenge of fly fishing for redfish. As a Nola guide, Captain Brandon Keck, knows the hot spot in the gulf shore waters. Captain Keck helms the top Louisiana fly fishing charter in New Orleans. This salt water guide has experience in fly fishing for reds, black drum, sheepshead, alligator gar, and jack crevalle.
Louisiana Marsh Fly Fishing Redfish Fishing in New Orleans with Southern Fly Expeditions
Louisiana fly fishing guide, Captain Brandon Keck, is the top New Orleans charter hosting fly fishermen from the Land of Lake anglers of Minnesota, the Missouri river anglers, to the Montana rivers and streams. These anglers love the challenge of red drum fly fishing. As a nola guide, we see the delight on the faces of these northern fishing enthusiasts, as they reel in the challenging feisty monster reds. Sight fishing for reds in a skiff in low tide is as fun as standing in a river casting. The spotedt tail lay in the blue muddy bottoms waiting to bite on your hook. Then the challenge begins as you reel in your catch.
For a fishing trip of a life time, book with Southern Fly, a New Orleans fly fishing charter at 156 Millaudon Street, New Orleans Louisiana 70118
Salt water fly fishing Red Drum with Southern Fly Expeditions Fishing New Orleans
Join Captain Keck at 156 Millaudon Street, New Orleans Louisiana 70118 for the best in fly fishing in southern Louisiana. Channel bass or spot tail fly fishing is casting for redfish at its best. For a winter getaway fishing trip, right outside of New Orleans is the place to catch reds. Whether casting in low tide or just off the Biloxi marsh in the gulf port, there are reds, black drum, alligator gar, sheepshead, and jack crevalle waiting for your line. Get your fill with fish by booking with the top Louisiana fly fishing guide, Captain Brandon Keck. He is the top fly fishing charter in Southern Louisiana. Captain Keck has hosted anglers from the mountain rivers and streams of California, Massachusetts, Carolina, and Virginia - anglers looking for a new adventure. Coming to our old town, New Orleans to book a fly fishing trip is always action-packed. Join us, Southern Fly Expeditions - Fly Fishing Louisiana - at 156 Millaudon Street, New Orleans LA 70118 or email us at captkeck@southernflyexpeditions.com